Energy, consumer discretionary and materials are the three sectors that are likely to contribute the most to the profitability of Nifty 200 companies for the September quarter, according to Bloomberg consensus estimates.
Net profit of the top 200 companies of the country is likely to hit Rs 2.4 lakh crore, which is an increase of 44.5 percent from the same period last year.
On the topline front, these three sectors are likely to contribute to more than half of the combined revenue of the index, which is pegged at Rs 22.3 lakh crore for the quarter.
The sample comprises of 176 companies of the Nifty 200 index, for which earnings estimates for the quarter are available.
While analysts expect Oil Marketing Companies (OMCs) – HPCL, BPCL and Indian Oil to return to
profit in the September quarter
, Reliance Industries is likely to report a net profit growth of over 50 percent during the September quarter compared to last year.
Other blue chip companies, which are likely to post double-digit growth in their net profit include Larsen & Toubro, Bharti Airtel, HDFC Bank, Maruti Suzuki, among others. In terms of sectors, the net profit of the energy segment is likely to double year-on-year, while that of consumer discretionary and materials is likely to surge by 89 percent and 85 percent respectively.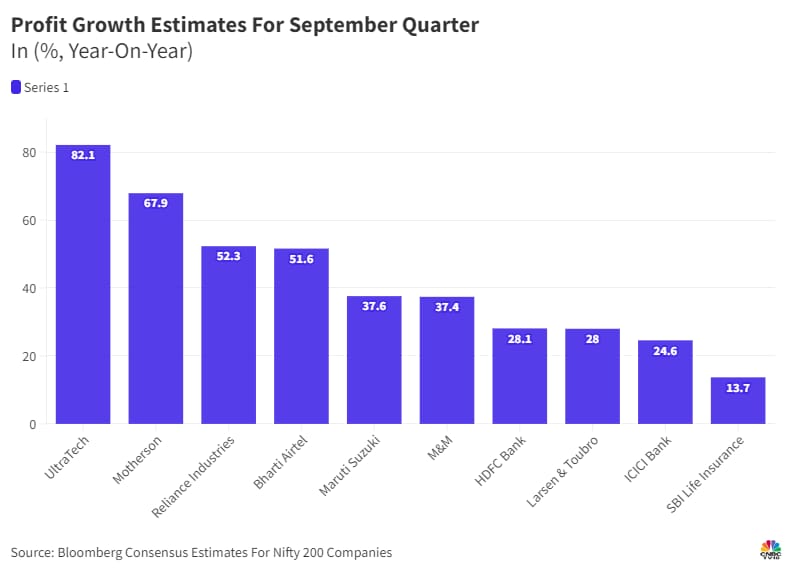 On the flip side, the number of loss making companies is likely to reduce to six from 16 that reported a net loss during the year-ago quarter. Tata Motors is likely to report a net profit of Rs 4,560 crore during the September quarter, compared to a net loss of Rs 945 crore that it reported during the same period last year. Similarly, Zomato is also likely to report a net profit, compared to last year's Rs 251 crore loss.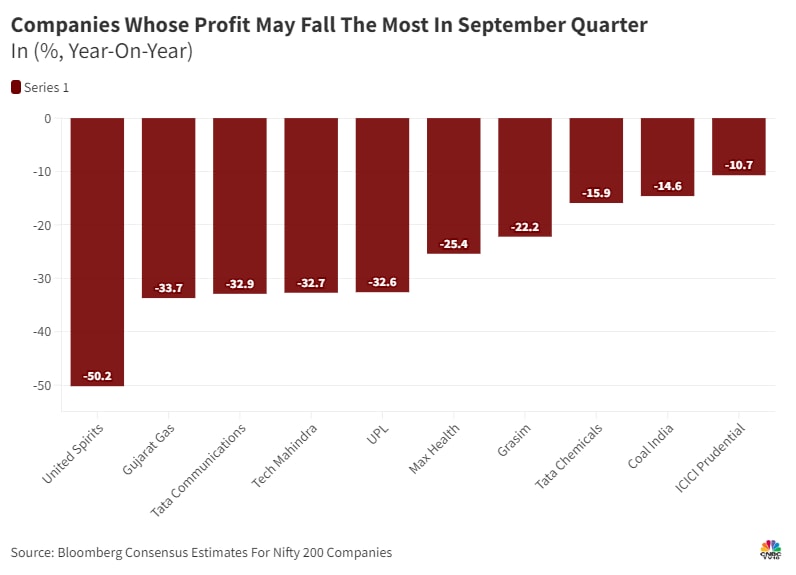 Vijay Jaising of JM Financial Services told CNBC-TV18 that he expects the market to move sideways over the short-to-medium term. "But as the earnings trajectory keeps on moving towards India and everything is pointing towards a 15-16 percent earnings CAGR this year and next, you will start seeing the market also move upward as we move towards elections," he added.
Earnings for the September quarter begin next week with TCS starting for largecap companies on October 11.