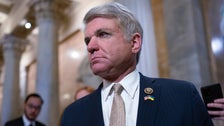 "It wasn't my idea oust the speaker," McCaul said. "I thought it was dangerous. I look at the world and all the threats that are out there and what kind of message are we sending to our adversaries when we can't govern, when we're dysfunctional, when we don't even have a speaker of the House?"
McCaul continued: "I think it sends a terrible message."
But the Texas Republican said it's imperative for the GOP to now act "quickly" to pick a new speaker.
"There is nothing the House can do until they elect a speaker, and I don't know if that happens quickly," McCarthy said. "The speaker is part of the 'Gang of 8' that takes action to be able to have briefing."
The Senate is also on recess this week.
"I don't think any of us want to go through that again," McCaul said. "I think we're ready to unify as a conference, unify around one speaker and not have this civil war…disrupt the legislative process."