Summary
Patrick Stewart recalls a touching encounter with Vivien Leigh while watching Gone With the Wind together, as she became emotional reminiscing about her late co-stars.
Vivien Leigh, despite being relatively unknown at the time, delivered one of the greatest performances in classic Hollywood, winning an Academy Award for her role as Scarlett O'Hara.
The experience of sitting next to Leigh during the film highlights Stewart's long-standing career in the entertainment industry and solidifies his status as a legend, much like Leigh herself.
Patrick Stewart recalls watching Gone With the Wind with the star of the 1939 classic. He's best known today as the star of Star Trek: The Next Generation and X-Men, but long before taking on his iconic roles in genre TV and films, Stewart tackled a very different kind of acting, appearing in Shakespearian drama on the British stage. It was during his time performing Shakespeare in London that a young Stewart crossed paths with a true legend of both the stage and screen, appearing in a production with Vivien Leigh, the star of movies like A Streetcar Named Desire.
Appearing recently on Conan O'Brien Needs a Friend, Picard star Stewart recalled one particular encounter with Leigh, which saw him sitting next to the renowned actor during a screening of her most famous film, Gone With the Wind. Stewart told O'Brien about Leigh's poignant reaction to watching the movie, and recalled the polite way she excused herself from the screening, which she found emotionally overwhelming. Check out his remarks below (around 3:30 of the clip):
I was sitting on one side of her and her gorgeous boyfriend [John Merivale] was sitting on the other side of her wearing a fabulous expensive suit. I saw that she was touching her face quite often, and then finally she turned to me and she took my hand and she said "Patrick, I'm going to have to leave. This is so upsetting. You see, so many of these lovely people I worked with are dead and it's upsetting me so much. So thanks for sharing this. I hope you enjoy the night." And she got up and she and John walked out. I was so touched. She could have just left. She didn't have to say thank you for coming and it's very good of you and explain to me why she was crying.
Patrick Stewart Is Now A Legend, Just Like Vivien Leigh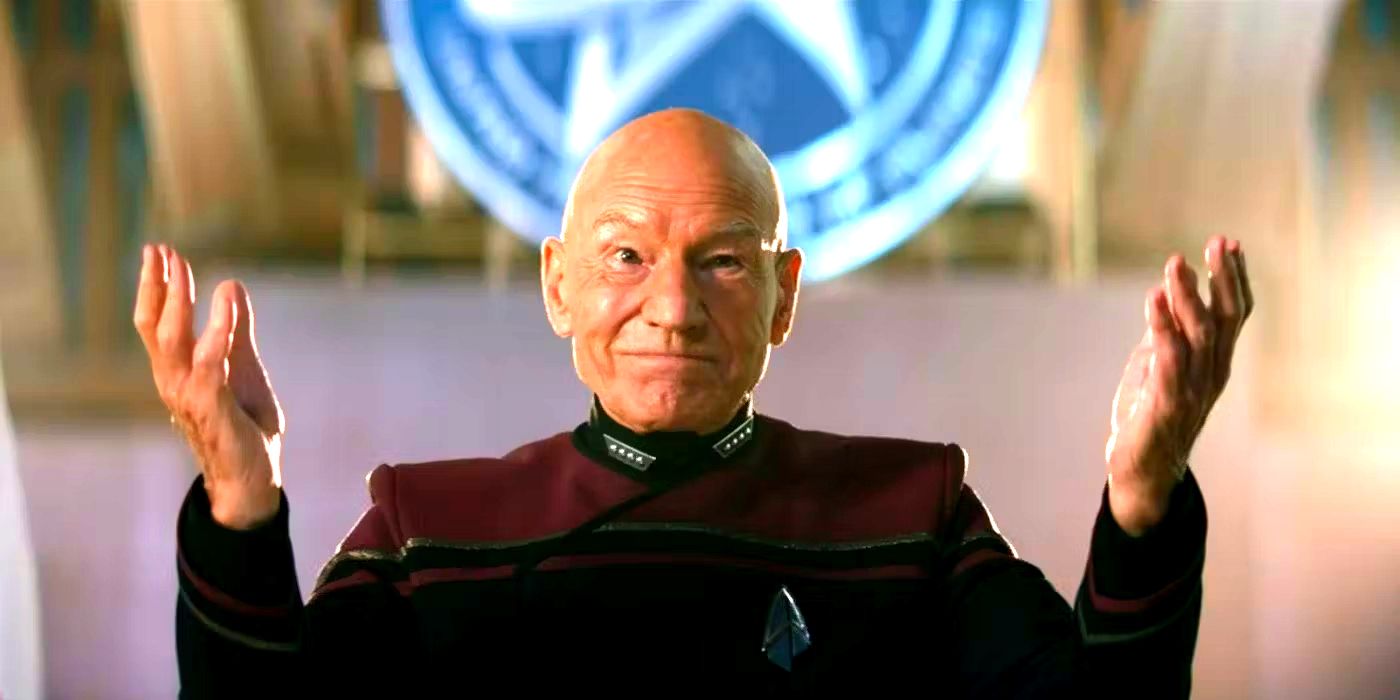 Leigh famously was an unknown actor when she landed the role of Scarlett O'Hara, beating out more established Hollywood stars like Bette Davis and Paulette Godard. The gamble of casting Leigh paid off for producer David O. Selznick, as she went on to give one of the great performances of classic Hollywood, winning the Academy Award for Best Actress.
Gone With the Wind has of course undergone a reassessment over the years, and today is considered a deeply problematic film. Leigh's work however continues to be acclaimed, as audiences still recognize the emotional power she brought to her performance as the indomitable Scarlett. Stewart's story of sitting beside Leigh as she was brought to tears by the overwhelming experience of revisiting the film is truly touching, and also demonstrates just how long Stewart himself has been in the business. Leigh is indeed legendary, thanks in large part to Scarlett O'Hara, but Stewart is himself an icon of TV and film by now thanks to the roles of Jean-Luc Picard and Professor X.
Source: Conan O'Brien Needs a Friend/YouTube