Summary
Freelance follows Mason Pettits, a former Special Forces soldier who is hired for a freelance gig providing security for journalist Claire Wellington.
Their mission takes a dangerous turn when a military coup breaks out, putting their lives at risk and forcing them to work together to survive.
John Cena, Alison Brie, and Juan Pablo Raba showcase their comedic and action skills in this explosive comedy set to hit theaters on October 27.
Freelance follows a former Special Forces soldier, Mason Pettits. Stuck at a dead-end job, he is recruited by Sebastian Earle, a military buddy, for a one-time freelance gig. Although initially reluctant, the money is good, and it seems simple enough to provide security for disgraced journalist Claire Wellington. Claire and Mason travel to Paldonia so she can interview the nation's president, Juan Venegas.
However, things take a turn when a military coup breaks out, ousting President Venegas and putting all their lives in danger. Although Claire is determined to regain her credibility with this interview, Mason is focused on getting them out alive. As things continue to go from bad to worse, the trio must work together and use the skills they have to stay alive and escape almost certain death. John Cena and Alison Brie, joined by costar Juan Pablo Raba, show off both comedic and action chops in this bombastic comedy, which is set to hit theaters on October 27.
More About Freelance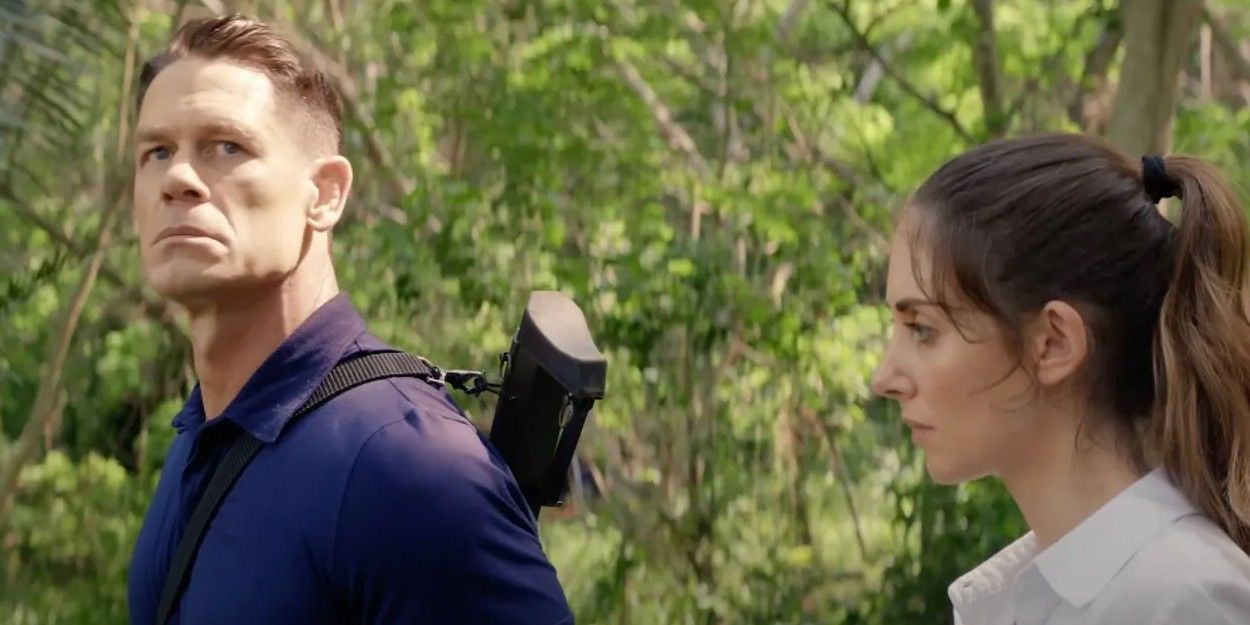 In Screen Rant's exclusive clip from Freelance, President Venegas is welcoming Claire Wellington to his country, laying on the charm, while Mason Pettits is searched for weapons. President Venegas knows Claire's college roommate Elli, which seems to be how she was able to connect with him in the first place. They discuss their mutual friend joking about her life in Kansas, with Claire explaining that her happiness isn't about Kansas but the rich rancher she married.

Related: Freelance: Release Date, Trailer & Everything We Know About The John Cena & Alison Brie Action Comedy
Mason awkwardly interjects, making the joke that they aren't in Kansas anymore. Although this seems to have put a stop to their banter, President Venegas recognizes the reference, and Claire apologizes for not introducing Mason. President Venegas reveals that he knows all about Mason, making a degrading joke about Mason's name. With his subtle show of power done, he laughs loudly and tells the driver to leave. Mason is immediately introduced as the odd man out, which seems fitting since he will likely come into play later as he works to protect both Claire and Venegas in the wake of the violent coup.
Freelance stars John Cena, Alison Brie, Juan Pablo Raba, and Christian Slater. The movie is produced by Steve Richards, Renee Tab, Christopher Tuffin, and Camilo Buendia Villaveces. Freelance is directed by Pierre Morel and written by Jacob Lentz. Freelance has a runtime of 109 minutes and is rated R.
Freelance will debut in theaters on October 27.