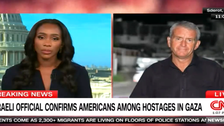 Robertson momentarily paused his report as he regained his composure.
"I'm sorry, Abby," he said, continuing: "He told me that they were going to do everything in their power to get them back. No one would be left behind, he said. But I think I picked up from him the extreme difficulty that is presented here. Because Hamas won't give them up."
"And where they're scattered, where they're being held, underground tunnels, bunkers scattered across Gaza — it is an almost impossible task."
The conflict's death toll has surpassed 1,000 already, with more than 700 reported dead in Israel and nearly 500 in Gaza.
There are more than 4,500 Palestinians behind bars in Israel, according to Israeli rights group B'Tselem.