Warning: SPOILERS lie ahead for Ahsoka season 1!
Summary
Ahsoka is praised as one of the best Disney+ franchise efforts, but it falls short on character development and focuses too much on nostalgic cameos.
Ahsoka received positive reviews and has a 70% audience approval rating on Rotten Tomatoes, while some other Star Wars shows like The Book of Boba Fett had mixed or negative ratings.
Despite its flaws, Ahsoka succeeds in understanding what audiences want, with emotional moments and a clear path for future seasons, learning from the mistakes of The Book of Boba Fett.
Though generally regarded as one of the better Disney+ franchise efforts yet, Screen Rant's latest episode of Pitch Meeting explores some of the problems behind Ahsoka. Created by Lucasfilm vet Dave Filoni and acting as a spinoff to both The Mandalorian and continuation of Star Wars: Rebels, the show follows Rosario Dawson's eponymous former Jedi Padawan as she sets out to find the menacing Admiral Thrawn with the help of her ally Sabine Wren before the Dark Jedi Baylan Skoll can. Joined by Natasha Liu Bordizzo, Mary Elizabeth Winstead, Ray Stevenson and Ivanna Sakhno, among others, Ahsoka garnered largely positive reviews through its eight-episode run.
Fresh off of the show's emotional finale, Screen Rant's own Pitch Meeting series is diving into Ahsoka. The episode, as seen at the top of this article, explores many of the narrative issues for the new Star Wars show, namely the lack of major development for its titular heroine and focus on other characters. The video also pokes fun at the decision to include a wide variety of nostalgic cameos to keep audiences invested, including episode 7's C-3PO appearance, with Anthony Daniels reprising his iconic role.
How Ahsoka Committed Same Sins As Book Of Boba Fett (But Successfully)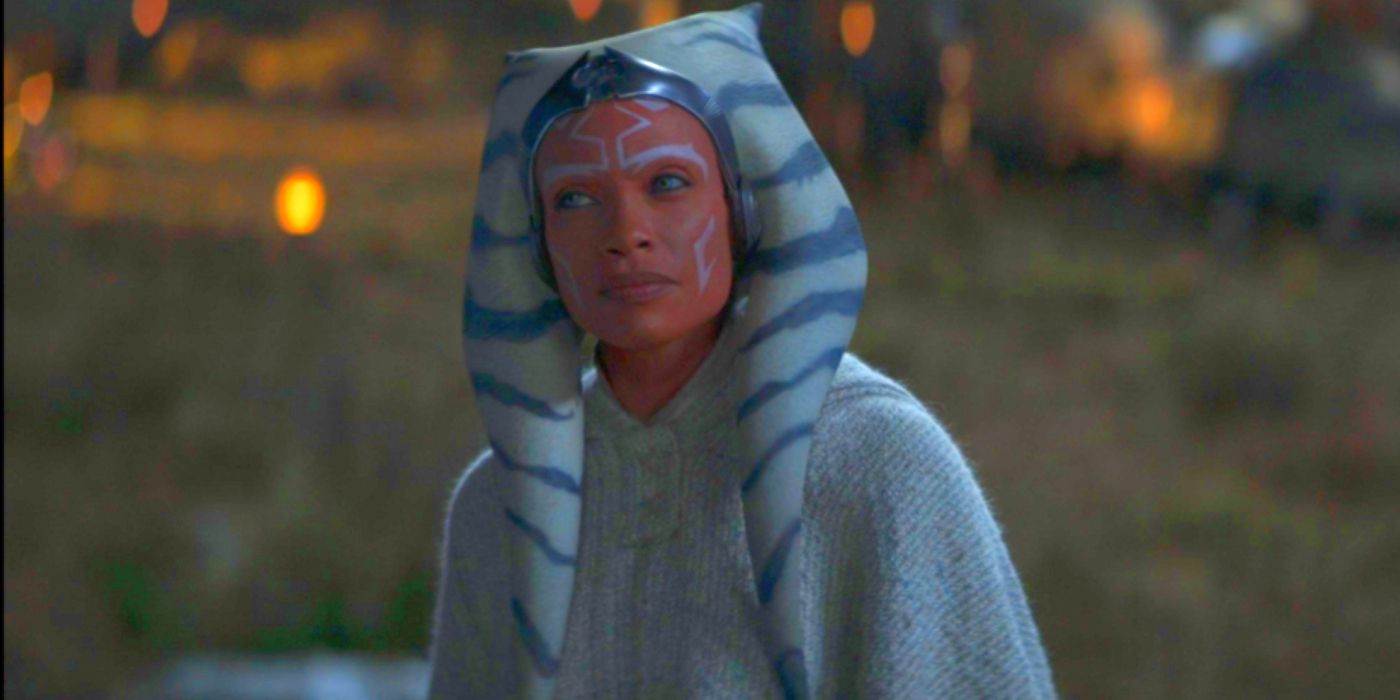 Sitting with a 70% approval rating from audiences on Rotten Tomatoes, Disney+'s Ahsoka has proven to be one of the better-received live-action Star Wars shows on the platform to date. The recently released Mandalorian season 3 garnered a more mixed 51%, a steep decline from its predecessors' 92% and 91% ratings, while fellow standalone shows Obi-Wan Kenobi narrowly landed a "Fresh" 62% rating and The Book of Boba Fett netted a "Rotten" 53%. At the time of writing, the franchise show to hold the second-highest Audience rating remains Andor season 1 with an impressive 86%, as well as the highest critical score of a near-perfect 96%.

Related: 5 Reasons Ahsoka Is Disney Star Wars' Best TV Show (& 5 Why It's Andor)
As noted by the latest Pitch Meeting, much of Ahsoka's flaws lie in its struggles to deliver a story that balances worthwhile expansions of its characters and universe alongside nostalgic-driven appearances, a critique similarly levied at The Book of Boba Fett. Where the Temuera Morrison-led show sought to fill in the gaps of the bounty hunter's survival in the Sarlacc pit rather than a meaningful expansion on his post-Mandalorian story, Dawson's show largely relied on action sequences and the returns of Rebels and Clone Wars characters to continue its plot. In doing so, Ahsoka herself was left with little true development until the latter half of the season, partially thanks to the return of Hayden Christensen as Anakin Skywalker.
Unlike The Book of Boba Fett, however, Ahsoka largely succeeded by better understanding what audiences wanted to see from its characters as they made their Star Wars returns. Bordizzo's Sabine Wren reuniting with Eman Esfandi's Ezra Bridger may not have lived up to Rebels' fans' expectations, but her arc of embracing the Force and becoming Ahsoka's Jedi apprentice made for an emotional one for those who have followed her since the animated show. Additionally, with talks of a season 2 swirling well before the show's premiere, and Ahsoka's ending leaving a far clearer path for its future than some other standalone titles in the franchise, it's clear Filoni and Lucasfilm have learned from the sins of The Book of Boba Fett's past.
Source: Pitch Meeting